You Are Invited to Participate in Our
Homeowner Association & Condominium
Legal Update Workshop
Wednesday, May 30 • 6:30pm – 8:00pm
Materials will be provided to all attendees
Workshop is free of charge. Space is limited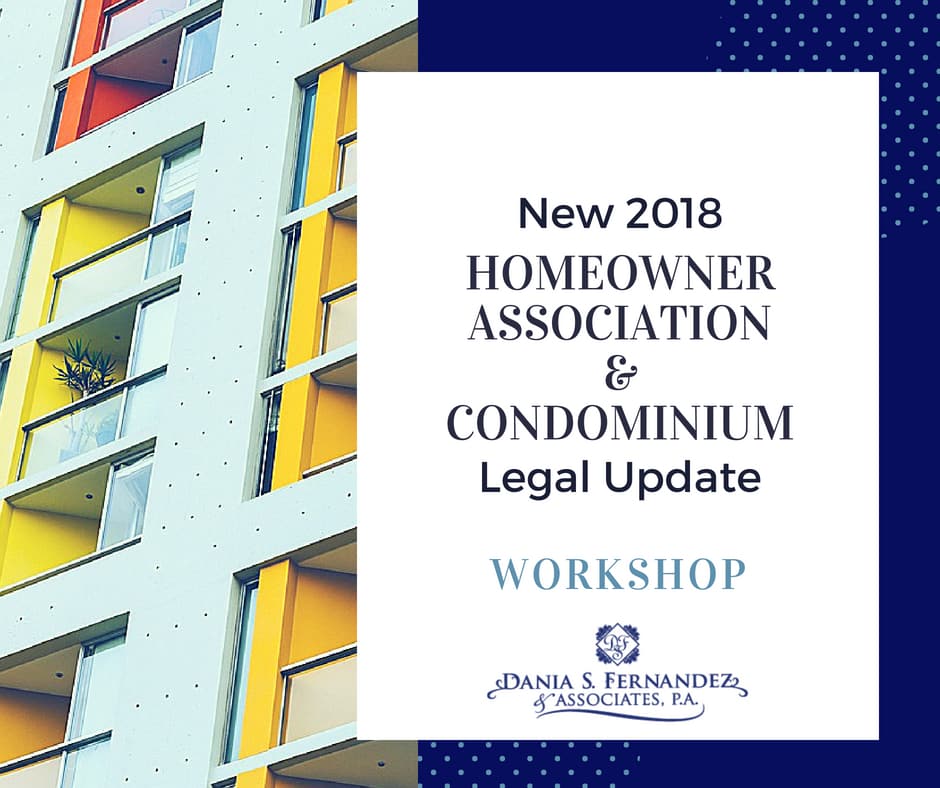 Topics Covered Include
Official Records Request—must be provided within 10 working days.
Condominium Websites—extended to January 1, 2019.
Financial Reporting
Notice of Board Member Meetings
Board member Recall
Material Alterations requires Unit Owner Vote but how many votes?
Electric Vehicles: What is the Association's responsibility?
Fines and Suspensions
Term limits on Board Members
HOA Amendment
HOA Elections
Featured Attorney Speakers
Dania S. Fernandez, Esq.
Alina Salcines, Esq.
Abraham Vais, Esq.
Class Location
U.S. Century Bank
2301 NW 87th Avenue
Doral, FL 33172
Inquiries
Please contact Dania Fernandez and Associates at
T. 305-715-5181
F. 305-715-2916
dania@dsfpa.com
Registration
Please fill the form below to register. Space is limited.
Thank you for your interest in the Law Offices of Dania S. Fernandez and Associates, P.A.